Luna asta am doborat destul de multe recorduri. Pe langa faptul ca am trecut de 2000 de views in 8 octombrie, vineri, 29 octombrie am trecut si de 3000 de views. Si am trecut asa ni, de departe.  De asemenea, am doborat recordul pentru cele mai multe views intr-o zi (234) si si intr-o luna (1300). Daca am ramas masca in iunie, cand am vazut ziua mea record, acum am ramas afis de autostrada cand am vazut ca in 29 octombrie am zburat cu mult peste acel numar cu viewsurile.
Numarul com­men­turilor a crescut mult pe blog (am ajuns la 103), a depasit numarul posturilor (83). Se pare ca vi s-a deschis gurita si ati facut ce v-am zis:P.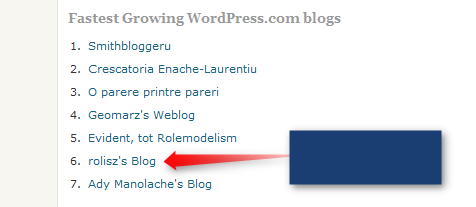 Yup, that's me, pe locul 6 la "Fastest growing Wordpress blogs"
Pentru o zi, am reusit sa am al 6-lea cel mai rapid crescator blog.
Posturile cele mai vizitat tot alea au ramas, desi cel cu Reverse Photoshops e aproape de ele (1 view diferenta).
Re­fer­rurile spre blog si clickurile inspre linkuri din exterior nu s-au prea schimbat, topul e acelasi.
Numarul viz­ita­to­rilor de azi este 89, cati locuitori sunt si in Ship­ping­port, Penn­syl­va­nia.
Faza naspa cu dobaratul asa uimitor al recor­durilor e ca imi va fi foarte greu sa mi le dobor din nou. So I will never be in top again :)))
As vrea sa multumesc tutoror oamenilor care au intrat si mi-au citit blogul. Special thanks to the guy who added me to his blogroll (Pop Raul). Multumesc si pri­ete­nilor mei care au raspandit linkul catre blog pe Facebook (Dodo, Alida, Sk8, Timi) si lui Ciprian, care a dat linkuri catre aproape fiecare post al meu, si lui Vlad, care a pus linkul la statusul sau de pe mess.
De acum incolo nu o sa mai scriu chiar asa de frecvent pe blog, maxim 1 post pe zi. Chiar daca o sa mai am idei multe deodata, o sa le programez sa apara ulterior.
Subscribe to rolisz's blog