Imprezzio Software Contest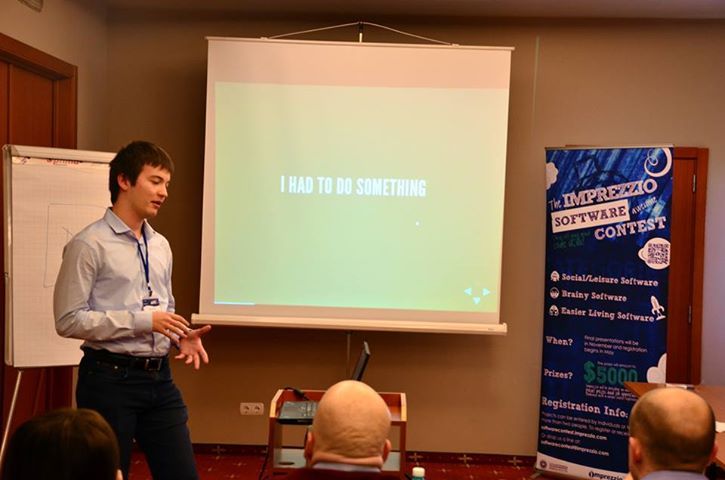 Azi am participat la Imprezzio Software Contest. În sfârșit am terminat. Nu mai vreau să văd un bon până la licență :))
La început, a prezentat unul din foștii câștigă­tori ai con­cur­su­lui, care acum este team lead la firmă. Ne-a zis o glumă:
What is the similarity between software developers and dogs? They both have an in­tel­li­gent look about them, and they can almost speak.
Par­tic­i­panții la concurs au dovedit contrariul glumei.
Prezen­tările au fost:
1) Autonomous path follower mobile robot De Gheorghe Turcanu și Emilian Lates
Era un roboțel care folosind doar doi senzori infraroșii, se deplasa pe un grid pătratic, calculând drumul optim.
2) Black Box De Paul Sucala
Proiectul era un device făcut de Paul care se lega la o mașină și care trimitea date despre condus la telefon, care apoi calcula ce stil de conducere ai (Agresiv, Economicos, etc).
3) Movie Feel De Vlad Itu și Darius Suciu
Era o aplicație de Android care se conecta la un backend și făcea sentiment analysis la reviewuri de filme. Întrebai de un film, căuta pe IMDB și Rotten Tomatoes reviewuri, făcea pre­proce­sare și apoi aplica un SVM și (sau) un PAUM (Perceptron Algorithm With Uneven Margins) pentru a da scoruri la filme pe mai multe axe: joy, scary, etc.
Prezentarea a fost făcută în Prezi, so it was pretty awesome.
Și au de gând să folosească în viitor chestii de un­su­per­vised learning :>:>
Fellow machine learning guys :>:>
4) Face Recog­ni­tion De Melania Galea
Acest proiect era o aplicație de recunoscut fețe cu un telefon Android, care comunica cu un backend scris în Django și care făcea procesarea de imagini cu OpenCV. Deocamdată era optimizată pentru re­cunoașterea de celebrități: Brad Pitt, Oprah, :)))
Another fellow machine learning gal :>:>:>
5) Jarvis De Laurentiu Motoonu
Era un joc scris în Javascript și Unity 3D.
6) Turn me off De Alex Bondor
Acesta era un proiect de home automation. Printr-o interfață web puteai să citești senzori și să controlezi dis­poz­i­tive puse în casa ta.
7) Re­ceipt­Bud­get De moi
O aplicație în Django care putea face OCR pe bonuri fiscale, le introducea în baza de date și apoi făcea statistici care erau prezentate fie pe hartă, fie pe niște charturi in­ter­ac­tive.
Juriul a fost compus din patru americani și un român (actually, maghiar) de la firmă.
Și acum să trec la chestiile mai personale:
Cu ajutorul Domnului, am luat locul 1. A fost de departe cel mai mare și complex proiect la care am lucrat vreodată. Avea părți diferite (OCR engine, REST-ful API, in­ter­ac­tive dashboard) și a fost prima oară când am încercat să fac Computer Vision. Am subestimat puternic cât de greu îi să faci asta.
Am de gând să merg mai departe cu acest proiect și pentru licență și să mai lucrez cât de cât la el. Dacă mai știți ceva concurs la care aș putea participa, do tell me :)))
Sunt re­cunoscă­tor Domnului că mi-a dat pricepere și înțelep­ci­une să realizez acest proiect și că și prezentarea mi-a ieșit bine, deși am obiceiul de a vorbi foarte repede :-S. Slavă Lui!
P.S. O să postez mai multe detalii despre proiectul meu în ur­mă­toarele zile.
Subscribe to rolisz's blog